Uparmored to 50 mm + 20 mm plates
WIP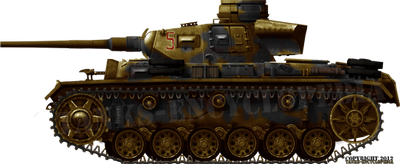 Survivors
Edit
Panzer III Ausf.L, U.S. Army Center for Military History Storage Facility, Anniston, Alabama. It was originally recovered from Tunisia. Formerly at Aberdeen, Maryland, this tank was recently moved to Anniston, Alabama. It is severely, severely rusted from many years outdoors. For unknown reasons the main gun has been replaced with something very small, possibly a 20mm Hispano autocannon.
Statistics
Edit
Number Built: 653 produced in 1942
Hull Armor:
Front: 
Sides: 
Rear: 
Top:
Bottom:
Turret Armor:
Front: 
Mantlet: 
Sides:
Rear: 
Top: 
Weight: 
Suspension Type:
Engine: 
Top speed: 
Primary Weapon:
Secondary Weapon: 
Radio:
Crew: 
Technical Data
Edit
Length (Including Gun): 
Hull Length: 
Total Width: 
Total Height: 
Ground Clearance: 
Track Width: 
Ground Pressure: 
Transmission: 
Speed, Road: 
Speed, Cross-Country: 
Range, Road: 
Range, Cross-Country: 
Gradeability: 
Side-Slope Performance: 
Trench Crossing Ability: 
Wall Climbing Ability: 
Fording Depth: 
Ad blocker interference detected!
Wikia is a free-to-use site that makes money from advertising. We have a modified experience for viewers using ad blockers

Wikia is not accessible if you've made further modifications. Remove the custom ad blocker rule(s) and the page will load as expected.