WIP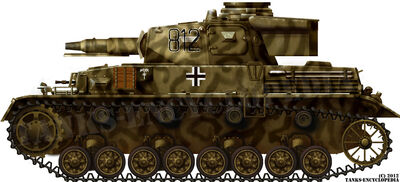 Survivors
Edit
Panzer IV Ausf.D ungoing restoration (as of June, 2016) at the Australian Armour and Artillery Museum, Westfield, Queensland, Australia. Found along with a Jagdpanzer 38(t), Panzerjäger Nashorn, and M20 Scout Car at Rose Barracks in Vilseck, Germany. It was previously owned by a private individual and was on load to Imperial War Museum Duxford, in England.
Panzer IV Ausf.D fahrgestell no.80576, turret number 433, Dmitry Bushmakow Collection, Russia. Various pieces of Panzer IV Ausf.D 80576, including the main gun, tracks, complete set of roadwheels, hatches, some pieces of armor, and various parts.
Panzer IV Ausf.D fahrgestell no.80732 with Panzer IV Ausf.G turret, The Tank Museum, Bovington, England. This tank was used by the NSKK for driver training. Probably made late in the war by putting together an old Panzer IV Ausf.D hull and an Ausf.G turret that was lying around just to make a complete tank.
Panzer IV Ausf.D with gun assembly from Panzer III Ausf.N, Fort Lee, Virginia. This tank was formerly at Aberdeen, Maryland, where it was patched up by being fitted with the gun assembly from a Panzer III Ausf.N; it is otherwise in seemingly good condition. It is currently in storage with Fort Lee's other tanks.
Statistics
Edit
Number Built:
Hull Armor:
Front: 
Sides: 
Rear: 
Top:
Bottom:
Turret Armor:
Front: 
Mantlet: 
Sides:
Rear: 
Top: 
Weight: 
Suspension Type:
Engine: 
Top speed: 
Primary Weapon:
Secondary Weapon: 
Radio:
Crew: 
Technical Data
Edit
Length (Including Gun): 
Hull Length: 
Total Width: 
Total Height: 
Ground Clearance: 
Track Width: 
Ground Pressure: 
Transmission: 
Speed, Road: 
Speed, Cross-Country: 
Range, Road: 
Range, Cross-Country: 
Gradeability: 
Side-Slope Performance: 
Trench Crossing Ability: 
Wall Climbing Ability: 
Fording Depth: 
Ad blocker interference detected!
Wikia is a free-to-use site that makes money from advertising. We have a modified experience for viewers using ad blockers

Wikia is not accessible if you've made further modifications. Remove the custom ad blocker rule(s) and the page will load as expected.