WIP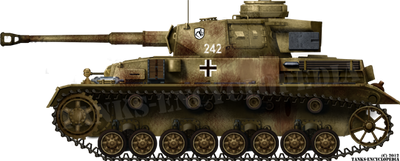 Survivors
Edit
Panzer IV Ausf.G fahrgestell no.83072, Deutsches Panzermuseum Munster, Germany. Belonging to the 8th Panzer Regiment, 15th Panzer Division, this tank was captured by the British in North Africa at the end of 1942. It carries the turret number 413, and has the inscription "Freiderike" on the gun barrel. It was returned to Germany in December 1960. It is in running condition and is often part of museum events.
Panzer IV Ausf.G fahrgestell no.82937 (hull no.83293 and turret no.82993) built by Krupp, Patriot Park, Russia. Origianally built by Krupp, this tank was of the 23rd Panzer Div. it was knocked out in January 1943. It was later repaired and served as a training tank until the end of the war. It has the camouflage and markings of a different Panzer IV Ausf.G, also of the 23rd Panzer Division. It is in running condition.
Panzer IV Ausf.G fahrgestell no.83534, National Armor and Cavalry Heritage Foundation, Fort Benning, Georgia. Originally recovered in Tunisia. This is an early example of the Ausf.G, it is missing the vision port on the right turret front and it has the older KwK 40 L/43, these features date the tank to the production between February and April, 1943. It was previously at Aberdeen, Maryland, moved to Fort Knox, Kentucky, in July 2008, and then to Fort Benning in 2011. Like many other tanks in the Aberdeen collection, the left side turret and hull have been cut out to allow viewing inside, the holes have since been covered with wire mesh. It has been in progessingly poor condition due to many years outdoors; and as of the beginning of 2016 it is now missing the mesh over the armor holes, but is kept indoors, assumingly awaiting restoration.
Panzer IV Ausf.G, Kevin Wheatcroft Collection, England. Poor condition.
Panzer IV Ausf.G, Herr Hoebig Collection. Herr Hoebig managed the Normandy scrapyard, where many tanks were cut up and dumped, he cobbled together this Panzer IV from pieces he found at the scrapyeard. It is likely completely empty inside.
Panzer IV Ausf.G, War of Independence Museum, Ankara, Turkey. Tank kept outdoors, average condition.
Panzer IV Ausf.G Turret, Memorial to the Battle of Kursk, Prokhorovka, Russia. This Panzer IV Ausf.G turret and upper frontal plate were discovered while rebuilding a park in Prokhorovka. They were recovered in September 2011. It was rebuilt has a static memorial with just the turret and upper superstructure, with reproduction pieces being built to supplement the original frontal plate.
Statistics
Edit
Number Built:
Hull Armor:
Front: 
Sides: 
Rear: 
Top:
Bottom:
Turret Armor:
Front: 
Mantlet: 
Sides:
Rear: 
Top: 
Weight: 
Suspension Type:
Engine: 
Top speed: 
Primary Weapon:
Secondary Weapon: 
Radio:
Crew: 
Technical Data
Edit
Length (Including Gun): 
Hull Length: 
Total Width: 
Total Height: 
Ground Clearance: 
Track Width: 
Ground Pressure: 
Transmission: 
Speed, Road: 
Speed, Cross-Country: 
Range, Road: 
Range, Cross-Country: 
Gradeability: 
Side-Slope Performance: 
Trench Crossing Ability: 
Wall Climbing Ability: 
Fording Depth: