WIP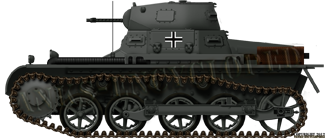 Survivors
Edit
Panzer I Ausf.A. Originally at the Canadian War Museum, it was bought by the Collings Foundation. Whether this vehicle was sold or moved to the new location in Stow, Massachusetts is unknown.
Statistics
Edit
Number Built: Sources differ from 300 to 833
Hull Armor:
Front: 8-13mm
Sides: 13-14.5mm
Rear: 13mm
Top: 8mm
Bottom: 5mm
Turret Armor:
Front: 14mm
Mantlet: 15mm
Sides: 13mm
Rear: 13mm
Top: 8mm
Weight: 11,905 lbs (5,400 kgs) ~5.95 tons
Suspension Type:
Engine: Krupp M 305 (60hp, Gasoline, 3.5 liter, Air-Cooled, V4)
Top speed: 23.3 mph (37.5 kph)
Primary Weapon: (2x) 7.92mm MG 13k with 2,250 rounds
Secondary Weapon: None
Radio:
Crew: 2
Technical Data
Edit
Length (Including Gun): 13ft 2.27in (4020mm)
Hull Length: 13ft 2.27in (4020mm)
Total Width: 6ft 9.09in (2060mm)
Total Height: 5ft 7.71in (1720mm)
Ground Clearance: 11.61in (295mm)
Track Width: 11.02in (280mm)
Ground Pressure: 5.8 psi (0.04 MPa)
Transmission: ZF F.G.35 (5+R)
Speed, Road: 23.3 mph (37.5 kph)
Speed, Cross-Country: 7.5 mph (12 kph)
Range, Road: 87 mi (140 km)
Range, Cross-Country: 57.8 mi (93 km)
Gradeability: 67% / 30°
Side-Slope Performance: unknown
Trench Crossing Ability: 55.1in (1.4m / 1400mm)
Wall Climbing Ability: 14.6in (0.37m / 370mm)
Fording Depth: 23.6in (0.6m / 600mm)
Ad blocker interference detected!
Wikia is a free-to-use site that makes money from advertising. We have a modified experience for viewers using ad blockers

Wikia is not accessible if you've made further modifications. Remove the custom ad blocker rule(s) and the page will load as expected.