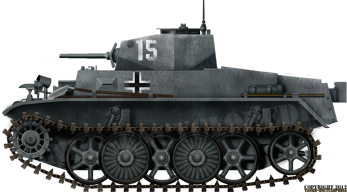 The Panzer I Ausf.C, was designed jointly between Krauss-Maffei and Daimler-Benz in 1939 to provide an amply armored and armed reconnaissance light tank. The Ausf.C boasted a completely new chassis and turret, a modern torsion-bar suspension and five interleaved roadwheels. It also had a maximum armor thickness of 30 millimeters (1.18 in), over twice that of either the Ausf.A or B, and was armed with a 7.92mm EW 141 semi autocannon firing 7.92×94 mm ammo. And at least one was built with a 2cm Flak 38. Forty of these tanks were produced, along with six prototypes. Two tanks were deployed to 1 Panzer Division in 1943, and the other thirty-eight were deployed to the LVIII Panzer Reserve Corps during the Normandy landings.
Statistics
Edit
Number Built: 4-6 Prototypes, and 40 Production Tanks
Hull Armor:
Front: 20-30mm
Upper Sides: 20mm
Lower Sides: 14.5mm + 5.5mm
Rear: 10-14.5-20mm
Top: 10mm
Bottom: 5mm
Turret Armor:
Front: 30mm
Sides: 14.5mm
Rear: 14.5mm
Top: 10mm
Weight: 17,637 lbs (8,000 kgs) ~8.8 tons
Suspension Type:
Engine: Maybach HL 45 P (150hp, Gasoline, 4.678 liter, Liquid-Cooled, V6)
Top speed: 49.1 mph (79 kph)
Primary Weapon: 7.92mm EW 141
Secondary Weapon: 7.92mm MG 34 with 2,100 rounds
Radio:
Crew: 2
Technical Data
Edit
Length (Including Gun): 13ft 9.15in (4195mm)
Hull Length: 
Total Width: 6ft 4.76in (1950mm)
Total Height: 6ft 4.56in (1945mm)
Ground Clearance: 8.86in (225mm)
Track Width: 11.42in (290mm)
Ground Pressure: 11.6 psi (0.08 MPa)
Transmission: VG 15319 (8+R)
Speed, Road: 49.1 mph (79 kph)
Speed, Cross-Country: 21.7 mph (35 kph)
Range, Road: 186.4 mi (300 km)
Range, Cross-Country: 118.1 mi (190 km)
Gradeability: 100% / 45°
Side-Slope Performance: unknown
Trench Crossing Ability: 47.2in (1.2m / 1200mm)
Wall Climbing Ability: 11.8in (0.3m / 300mm)
Fording Depth: 30.9in (0.785m / 785mm)
Ad blocker interference detected!
Wikia is a free-to-use site that makes money from advertising. We have a modified experience for viewers using ad blockers

Wikia is not accessible if you've made further modifications. Remove the custom ad blocker rule(s) and the page will load as expected.