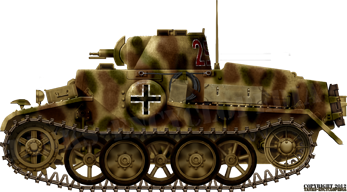 The Panzer I Ausf.F was intended as an infantry support tank, the Panzer I Ausf.F had a maximum armour thickness of 80mm (3.15 in) and weighed between 18 and 21 tonnes. The Ausf.F was armed with two 7.92mm MG-34s. Thirty were produced in 1940, and a second order of 100 was later canceled. In order to compensate for the increased weight, a new 150 horsepower (110 kW) Maybach HL45 Otto engine was used, allowing a maximum road speed of 25 kilometers per hour (15.5 mph). Eight of the thirty tanks produced were sent to the 1st Panzer Division in 1943 and saw combat at the Battle of Kursk. The rest were given to several army schools for training and evaluation purposes
Statistics
Edit
Number Built: 30, Possibly 4 More Prototypes
Hull Armor:
Front: 60-80mm
Sides: 80mm
Rear: 30-80-60mm
Top: 20-30mm
Bottom: 20mm
Turret Armor:
Front: 80mm
Sides: 80mm
Rear: 80mm
Top: 20mm
Weight: 46,297 lbs (21,000 kgs) ~23.14 tons
Suspension Type:
Engine: Maybach HL 45 P (Gasoline, 4.678 liter, Water Cooled, V6)
Top speed: 15.5 mph (25 kph)
Primary Weapon: (2x) 7.92mm MG 34 with 5,100 rounds
Secondary Weapon: None
Radio:
Crew: 2
Technical Data
Edit
Length (Including Gun): 14ft 4.24in (4375mm)
Hull Length: 14ft 4.24in (4375mm)
Total Width: 8ft 7.93in (2640mm)
Total Height: 6ft 8.7in (2050mm)
Ground Clearance: 1ft 1.77in (350mm)
Track Width: 1ft 7.69in (500mm)
Ground Pressure: 16.53 psi (0.114 MPa)
Transmission: SSG 47 (6+R)
Speed, Road: 15.5 mph (25 kph)
Speed, Cross-Country: 8.7 mph (14 kph)
Range, Road: 93.2 mi (150 km)
Range, Cross-Country: 68.4 mi (110 km)
Gradeability: 67% / 30°
Side-Slope Performance: unknown
Trench Crossing Ability: 59.1in (1.5m)
Wall Climbing Ability: 13in (0.33m / 330mm)
Fording Depth: 22.4in (0.57m / 570mm)
Ad blocker interference detected!
Wikia is a free-to-use site that makes money from advertising. We have a modified experience for viewers using ad blockers

Wikia is not accessible if you've made further modifications. Remove the custom ad blocker rule(s) and the page will load as expected.